Friends of STALKERSOUP
Welcome to the members section, you don't have to join or donate to view these pages.
If you are not a member of FSS then please view the panel at the bottom of this page.
Become a Friend of STALKERSOUP (FSS)

Any donation will will let you submit a call sign that will identify you in the game, it will become your Live-Link-PDA call sign.

There are also:

$20.00 (cumulative) gets you a STAKERSOUP T-Shirt

$30.00 (cumulative) gets you a STALKERSOUP 15gig USB: incudes mod in an installer with options and tools.

More than that is always welcome and will help this mod grow and also make it more available.

Shipping within the US is included, outside the US is yet to be determined.

(cumulative) means that every dollar you donate over time will count toward the member awards. You will be notified when you acheive an item so that you may choose to get it or keep acumulating.

Get your call sign registered today before someone else does, they will appear on the FSS Active Roster posted throughout the Zone. You may even see it in the in game news messages, never know.
15 Gigabyte Membership USB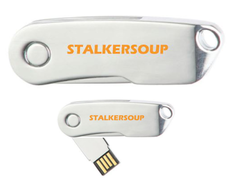 Comes loaded with the complete MOD in an installer that handles the game files, bin folder and bare gamedata folder for you.
Also includes texture pack and environment Plug Ins.
Sample music Plug In: Dancar em Preto (Dances in Black).
Can be shipped now with latest revision applied or wait until 1.1.0.0.0 is released.
Contribution amounts will increase on release of 1.1.0.0 so reserve yours now.